Naomi has organised over 100 community events in Taiwan, China and the U.K., she focuses on environmental education and raising awareness of social issues.

Noteworthy Climate Events
Climate Crisis Film Festival, Taiwan
In 2021, Naomi collaborated with the Climate Crisis Hub and held the Taiwan edition of Climate Crisis Film Festival, a film festival that presented raw human stories of climate change. The one-week festival featured films sharing stories from 15 different countries. Harnessing powerful, frontline explorations of the climate crisis through a lens of arts and culture, with a strong emphasis on representation of the Global South across the programme.
WaterBear: Climate Crisis Film Screening Series
This year (2022), Naomi organised a 5 week film screening series dedicated to looking at the future of our planet, with Waterbear Network. She invited experts from Greenpeace Taiwan and International Climate Development Institute, to share their knowledge on the issue presented in the film and provide further information. The event invited the audience to use the films as prompts for dialogue on different environmental topics and encourage open discussions on climate change.
Amnesty Talks: Climate Justice
While climate change continues to threaten all of our lives in some way or another, disadvantaged and discriminated communities are disproportionately being affected by the climate crisis.
Human rights are intimately linked with climate change. This event will discuss climate justice and the effects climate change is and will continue to have on communities in Taiwan. We will be joined by speakers from the Environmental Rights Foundation, 350Taiwan and Taiwan Youth Climate Coalition who will share what actions and policies they are pressing for in Taiwan and why we should all be calling for climate justice.
Amnesty Book Club - Rising: Dispatches from the New American Shore by Elizabeth Rush
A rigorously reported story about our vulnerability to rising sea levels that sheds human light on the global climate crisis. The book shares stories from vulnerable and marginalised communities, making it a powerful, poetic call for climate justice. With every passing day, and every record-breaking hurricane, it grows clearer that climate change is neither imagined nor distant—and that rising seas are transforming the coastlines of the world in irrevocable ways. In Rising, Elizabeth Rush guides readers through some of the places where this change has been most dramatic in America. For many of the plants, animals, and humans in these places, the options are stark: retreat or perish in place.

Amnesty Book Club - How Beautiful We Were
by Imbolo Mbue
Set in the fictional African village of Kosawa, the book tells the story of a people living in fear amidst environmental degradation wrought by an American oil company. How Beautiful We Were is a masterful exploration of what happens when the reckless drive for profit, coupled with the ghost of colonialism, comes up against one community's determination to hold onto its ancestral land and a young woman's willingness to sacrifice everything for the sake of her people's freedom.
Noteworthy Human Rights Events
Taiwanese LGBTQIA+ film screening program
A collection of films from Taiwan's LGBTQIA+ cinema. We will be showing a collection of Taiwanese blockbusters, indie short films and documentaries that celebrate queer culture and feature stories of the fight for gay rights in Taiwan.
Amnesty Screenings: Human Rights in Taiwan
Showing documentaries covering a variety of social and human rights issues in Taiwan. The films will feature powerful stories of people working on important issues and fighting for justice on the island. From the death penalty to free speech, we will be showcasing films covering issues that Amnesty International is fighting for, while campaigning for human rights to be enjoyed by all. We hope that through these films we can bring more attention to these issues, have in-depth discussions on the matters and unite in solidarity for justice and freedom.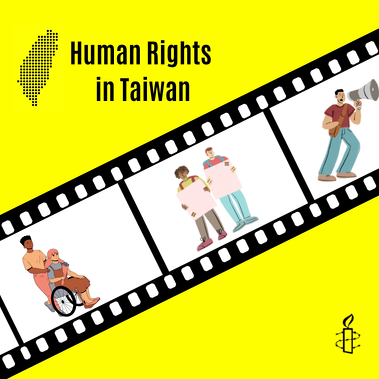 Amnesty International: Write for Rights
Amnesty International's annual Write for Rights campaign has transformed the lives of people whose rights have been wronged. Using the power of their words, Write for Rights supporters have united behind a common purpose: together, we can change lives for the better.
Amnesty Talks: Refugees - Approaches for Diversity
and Inclusion
Imagine being forced to flee your country in order to escape to safety. Every day, all over the world, people make one of the most difficult decisions in their lives: to leave their homes in search of a safer, better life.
In this event we will hear from a Taiwanese activist working on advocating for refugees, they will discuss how to humanize refugees and discuss how we can create a more inclusive society for all.
Amnesty Talks: Russia-Ukraine War disinformation in Taiwan
Since Russia invaded Ukraine, Russian propaganda has continued to influence the discourse of the war in Ukraine, with Taiwan falling target to disinformation campaigns and fake narratives.
Join us for a talk that will examine the suspicious and manipulative narratives related to the Russian-Ukrainian war in Taiwan's information space and discuss what are the implications of these narratives and how we can learn to stay alert to not be susceptible to information manipulation under emotional situations.
Amnesty Screening: The Unthinkable
Join us for a film screening of the documentary, The Unthinkable, produced by Comfort Ndzinisa in association with Eswatini Solidarity Fund.
The Unthinkable is a collection of stories of the survivors of the eSwatini political unrest that happened on the 29th of June 2021. The stories span from children to adults that were shot by the security forces. It offers an account of the devastation that has been left behind and the failure of a government to be accountable to these survivors and the nation at large.

Amnesty Talks: Colombian Protests
Join us for a talk on a deeper look at why anti-government protests have broken out in Colombia and why its people are outraged by what human rights groups have called a heavy-handed state response in trying to control them.
The demonstrations in Colombia were initially in opposition to a government tax-increase plan, but protests have now transformed into a national outcry against inequality, police abuse and economic struggle.